The Daytona 500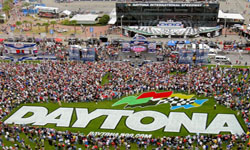 is a 500-mile-long NASCAR Sprint Cup Series race held annually at the Daytona International Speedway. It's regarded as the most prestigious NASCAR race, carrying the largest purse. This race event is also sometimes called "The Great American Race," or the "Super Bowl of Stock Car Racing." The Daytona 500 was first held in 1959 in conjunction with the opening of the Speedway. It's one of four restrictor plate races and since 1982, has been the season-opener race of the Cup series. Since 1995, television ratings in the U.S. for the Daytona 500 have been the highest for any auto race of the year - even surpassing the Indianapolis 500. The Daytona 500 also serves as the final event of what is known as Speedweeks. Since 1959, all Daytona 500 races have been held in the month of February. The Daytona 500 is the direct successor of the shorter races held on Daytona Beach in the early days. Early events featured a 200-mile race with stock cars, until the Daytona International Speedway was built and the race held there in 1959. It was actually the second 500-mile race, following the Southern 500. By 1961, it was referred to as the "Daytona 500."

The winner is presented with the Harley J. Earl Trophy in Victory Lane. The winning car is displayed, in race-winning condition, for one year at Daytona 500 Experience, a museum and gallery adjacent to the Daytona International Speedway. The Daytona International Speedway is 2.5 miles long, so a 500-mile race requires 200 laps to complete. It has been shortened four times (in 1965, 1966, 2003 and 2009) due to rain and once due to the energy crisis of 1974.

Qualifying for the Daytona 500 - How It's Been Done in the Past:
Some teams must race their way into the Daytona 500. The first row for the race is set by a timed round of qualifying, held one week prior to the race. (Prior to 2003, this was two rounds; prior to 2001, it was three rounds.) The remainder of the field is set by two separate qualifying races, with two-lap overtime if necessary (beginning in 2005). The top two drivers from the qualifying races who were not in the top 35 in owner points were given spots on the field, and the rest of the field was set by the finishing order of the duels, with guaranteed spots to those in the top 35. The remaining spots, 40 to 43 were filled by top qualifying times of those not already in the field from the qualifying race. If there was a previous NASCAR champion without a spot, he would get one of those four spots, otherwise, the fourth fastest car was added to the field.