Daytona Beach, Florida >
is located in Volusia County, approximately 54 miles northeast of Orlando and 250 miles north of Miami. The city is split in two by the Halifax River Lagoon, which is part of the Intracoastal Waterway. Daytona Beach is well known for its motor sports, with the Daytona International Speedway and the historical Daytona Beach Road Course having hosted races for over a century. In the early 1900s, Daytona Beach became world famous when automobiles were first raced on the beaches at speeds up to 57 miles per hour (unheard of in that day and age.) The last land speed record was set at Daytona in 1935 when Sir Malcolm Campbell drove his famous "Bluebird" at an incredible 276 miles per hour! Today, the city and its' beaches attract over 8 million visitors every year and it's one of the few places in the entire world where a "family" car can still be driven on an ocean beach – without special equipment or a 4-wheel-drive vehicle. Billed as the "World's Most Famous Beach," Daytona Beach includes 23 miles of gorgeous sandy beaches, lined with a variety of hotels, motels, condominiums and beach houses. There is a special 18-mile stretch of hard-packed sand beach that allows cars during daytime hours only at speeds up to 10 miles per hour. Five miles of beach are reserved for those who do not want to share their seaside experience with cars. Daytona Beach is often associated with "spring break," but many other well-known events are held in the town each year, including Speedweeks in early February and Biketoberfest in October. There are unlimited activities to engage in such as swimming, sailing, jet skiing, fishing, boating, beach volleyball, kite flying, biking and golf. In addition, the city's famous pier and boardwalk is lined with dozens of restaurants, bars and shops.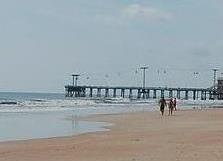 Daytona Beach is also home to Embry-Riddle Aeronautical University, Bethune-Cookman College, Daytona Beach Community College and Keiser College Daytona Beach Campus. The area consists of several beachside communities. At the north end of the beach is Ormond-by-the-Sea and Ormond Beach. Considered the "quieter" part of the beach, this area was once home to the Rockefellers and Flaglers. Beach driving is not allowed on the north end of the beach. The central area is the most well known portion of Daytona Beach and contains the Oceanfront Boardwalk, the historical Main Street Pier, the Halifax Harbor Marina and of course, the widest stretch of white sandy beach. To the south is the Daytona Beach Shores area, formed in 1960. At the very tip of the peninsula is Ponce Inlet – a scenic little fishing village that offers charter fishing boats and some of the area's best seafood restaurants. The Daytona Beach area offers a wide range of things to see and do – from quaint antique shops to large shopping malls, casual beachside dining to upscale restaurants. You'll find exciting nightlife, as well as museums and art galleries. Daytona Beach is within an hour's drive to Disney World, Sea World, Epcot Center, historic St. Augustine and the Kennedy Space Center.