The Coke Zero 400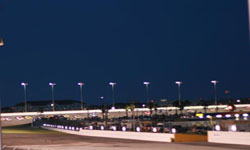 is an annual NASCAR Sprint Cup Series race held at the Daytona International Speedway each July. The race is 400 miles, which takes 160 laps. It's the second major stock event held at the Daytona circuit (the first being the Daytona 500.) This race has been held since 1959, and since 1988 has always been on the first Saturday of July that is closest to the 4th of July. Due to this, for racing fans, it's as big a part of Americana as fireworks and summer cookouts. One of the nation's biggest fireworks displays is held after the race. In 1998, the Coke Zero 400 became the first restrictor plate and Daytona race to be held at night.

Beginning in 2008, a ten-year contract was made between Coca-Cola and the International Speedway Corporation. This made Coke the official soft drink and official sparkling beverage and water for ten of the International Speedway Corporation's motorsports facilities and the Daytona 500. This replaced Pepsi-Cola, which held a 19-year sponsorship. Coke Zero is the race's title brand through 2018. The Coke Zero 400 is well-known for its close finishes, including the T-4th closest margin of victory in Sprint Cup history at (.005 ms) and for its high speed high-density crashes under the lights.

History:
In 1959, following two separate fatal accidents, Daytona International Speedway officials halted any scheduled high-speed events at the track, including a 300-mile race scheduled for July 4th. Instead, plans were announced to hold a 250-mile stock car race instead (100 laps) for the same day. This race was named the Firecracker 250, because it would be held on the U.S. holiday, Independence Day. The inaugural race was held at midday in order to hopefully escape the possibility of an afternoon thunderstorm (common to Florida in the summertime.) It was also held at this time for competitors and spectators to have time to enjoy the afternoon at the nearby beach. Approximately 12,900 spectators attended this inaugural race, which ran its scheduled 250 miles with no caution flags. Within three years, the race's attendance grew to over 22,000. In 1963, the race was expanded from 100 laps to 160 laps, for a distance of 400 miles, and became known as the Firecracker 400. In 1985, it became known as the Pepsi Firecracker 400, when PepsiCo became the title sponsor. In 1989, the "Firecracker" was dropped from the name, so it was known simply as the Pepsi 400 through 2007. In 2008, Coca-Cola became the title sponsor.