Daytona Beach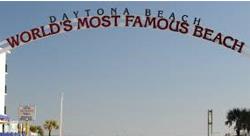 is home to 23 miles of wide, hard-packed, white-sand beach dubbed the "World's Most Famous Beach." This is the beach that in 1902 welcomed the first automobile and motorcycle races on the sand. Today, visitors are still allowed to drive along Daytona Beach in designated areas. Beach driving is one of the most popular activities that draw some people to Daytona Beach. Beach access points can be found along Florida's Atlantic Highway, otherwise known as A1A. There is a fee of $5.00 per vehicle for driving on the beach. The beach is accessible to pedestrians 24/7, but beach driving is restricted to specific areas (weather and tides permitting) from sunrise to sunset. During sea turtle nesting season, May 1 - Oct. 31, driving hours are set from 8 a.m. to 7 p.m. Traffic lanes and speed limits are clearly marked.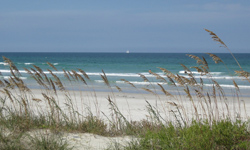 Lifeguards:
Daytona Beach has a Lifeguard Corps are always on the lookout to keep each one of those beach goers safe. Daytona Beach's safety program includes water rescue of swimmers and surfers, boater rescue, search for missing persons and other beach-related emergencies. Daytona Beach lifeguards also handle enforcement of beach laws and regulations related to beach and aquatic activities. In addition, there are beach guidelines posted for all visitors to practice beach safety. Look for safety flags and inquire with a lifeguard regarding possible rip currents and tide information.

Parking:
Beach parking is available in marked areas just west of the traffic lanes and east of the Conservation Zones. Please take care not to park in soft sand areas or on vegetation.

Other things to know about Daytona Beach:
Be sure that any fires are contained to a grill, and please dispose of ashes properly once cooled. The use of fire pits are allowed during turtle nesting season May 1 - October 31.

Please use only paper products on the beach, and dispose of them in the trash cans which are posted conveniently throughout the length of the beach.

Overnight parking, camping or alcoholic beverages are not allowed on the beach.

Dogs are permitted on the beach in specific areas only.